ERP & Integration
·
Hybrid
ERP Consultants to Food & Beverage industry
We are looking for ERP Consultants who want to make the food & Beverage industry smarter and more sustainable. Are you ready for new and exciting challenges?
What you'll do
Our client is one the largest food and beverage companies in Scandinavia. Together with a team of consultants, you will work on interesting and challenging projects in the area of ERP and Integrations to create collaboration and business efficiency. This job is a perfect match for the creative problem solver!
About you
You are an experienced consultant and have implemented or worked with ERP systems in the Food & Beverage industry before. You are familiar with M3 processes in at least one of the following business areas: Finance, Supply chain, Distribution or Warehouse.
You speak and write fluently in Finnish and English. If you also speak Swedish, it is an advantage (but not a necessity).
What we offer
We welcome you to a Great Place to work certified workplace, ranked among the top 5 of Great workplaces in Sweden. You will find the Elvenite culture unpretentious and curious. We work together as a team, and it is very important to us to have fun together as we work. We are a mix between women (45%) and men of all ages. You will have the opportunity to work with development projects for one of Scandinavia's largest companies in the F&B industry. We are a stable growth company with a good reputation, and we offer great development opportunities.
About us
In 2007 Elvenite was born in Karlstad, Sweden. Since 2017, Elvenite is a part of CombinedX, a family of knowledge enterprises that help companies and organizations take advantage of digital opportunities.
Elvenite delivers results right on the boundary between IT and business development for some of Scandinavia's leading food companies. We combine in-depth industry intelligence and knowledge of business with a view to maximising the value of our customers' business systems and processes.
We are driven by efficiency, curiosity, and consideration, and we are always striving to aim higher. We like to call ourselves improvement consultants. At Elvenite, we believe that getting a new systems licence alone, is not nearly enough to achieve major success. We believe you have to improve entire work processes within the business. That's why our improvement work is based on people, working together, to achieve changes and improvements.
Although we are a company that is growing steadily, we will always stick with the personal service that a small company can offer, maintaining our ability to supply innovative, fast, individual solutions to our customers.
Continuing to develop our own business will allow us to add value for our customers and deliver business development using our hearts, minds, and good communication.
Salary: individual and market-based
Start date: Oct – Nov 2022 or according to the agreement
City: Helsinki, Finland
Tjänsteområden

Distansarbete

Hybrid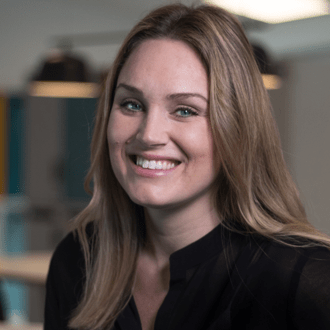 Kontakt
Therese Gawor
Recruitmentspecialist & traineeprogram – Marketing
A great place to work!
Friskvård

Med vårt fina friskvårdsbidrag kan du fokusera ännu mer på träningsformer som passar dig

Aktiviteter tillsammans

Testar nya träningsformer och deltar i olika arrangemang tillsammans

Massage

Möjlighet till massage på kontoret under kontorstid

Hållbarhetsarbete

En utmaning per år med fokus på hälsa, miljö och ekonomi
Att jobba på Elvenite
Vi välkomnar vi dig till en fantastisk företagskultur med kvinnor (46%) och män i alla åldrar som har högt i tak och drivs av ständigt lärande och personlig utveckling. Vi är en skön blandning av människor med olika bakgrund, erfarenheter och intressen. Vi drivs av viljan att tillsammans jobba mot högt uppsatta mål, ha roligt på jobbet och skapa framgångsrika och hållbara lösningar för våra kunder. Med fokus på laget framför jaget, lyfter vi varandra i vardagen. Tillsammans med snart 100 st kollegor gör vi skillnad i livsmedelsindustrin!
ERP & Integration
·
Hybrid
ERP Consultants to Food & Beverage industry
Loading application form
Jobbar du redan på Elvenite?
Hjälp till i rekryteringen och hitta din framtida kollega.